I could not have asked for a better springboard to teaching science than the
Introductory Science
curriculum from
Science Shepherd.
This is the first formal science curriculum that we've incoportated into our Kindergarten/1st grade classroom outside of unit studies and dare I say, we found a winner! Truly truly, I am so excited to share this review with you!!!
The
Introductory Science
program, for kids ages 6-11, covers a wide breadth of topics including meteorology, astronomy, oceanography and more over 35 weeks of lessons. Each video lesson is up to 5 minutes long, and all are accessible online for 12 months with this selection. The program is self paced but nicely lends itself to daily lessons.
Alongside the video course, you can purchase corresponding workbooks to reinforce the lessons taught. We received a copy of Workbook A(with an answer guide), which is intended for ages 6-8. The Level B workbook contains the same material but with some added content and is geared towards ages 9-11. Evan loves his workbook! On average there are usually two workbook pages per lesson, one page with questions about the material and the other with a fun activity like a word search or puzzle. The questions are given as short answer, multiple choice or "circle the answer" and are great for practicing simple comprehension with your early elementary student. There are samples of each workbook pages available online.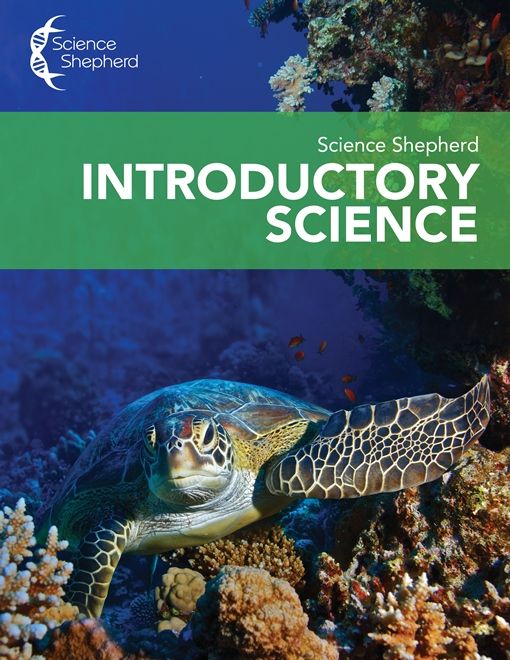 What I love about this product:
The format!!! Each video lesson is less that five minutes long, and the corresponding workbook pages are equally as non-intimidating-with no compromise to the content! This is so age appropriate for my 6 year old-it's an all around win! The material itself is thorough and engaging and it's format makes it so approachable for little ones.
Here is a screenshot of one of the online video lessons
I was worried this program would be above Evan's level since he is at the very beginning of the age range, but I have been so pleasantly surprised! He loves doing his science work! The video interface is a win win and with the occasional dictation from mom, he has become almost independent over his workbook pages. This is not to say that the program itself is super simple since it has worked so well for my 6 year old, because as a 30 year old myself I've learned alongside him! I am so so glad we discovered Science Shepherd early on and will definitely consider their other products as we grow.
It's no surprise that Evan especially loves the additional experiments included in the workbook. I love that they are equally addressed in the video tutorials. In the past I admit I've second guessed myself while conducting even very elementary level science experiments, often having to refer to google for extra help and pictures where I may have gone wrong or missed a step. Seeing the experiment firsthand, and demonstrated by these smart young ladies below, is so helpful. So far we have done every optional activity and have enjoyed them all! As a plus, most materials needed for the science experiments throughout the book can easily be found around your house. You can find a list of the video activities and supplies needed here.
Product Details:
The Introductory Science video course is $35.
The Workbook Level A is $12.
The Workbook Level B is $15.
Answer keys are $3.
I highly recommend Introductory Science as an early elementary science course as it is just that-an excellent and solid first foundation to the world of science. Click on the banner below to see what the fellow crew thought!

And, be sure to check out Science Shepherd on social media at the following links:
Facebook
-
https://www.facebook.com/ScienceShepherd/
Twitter
-
https://twitter.com/scienceshepherd
Pinterest
- ​
https://www.pinterest.com/scienceshepherd