Attention mamas! If you have an art loving little but absolutely dread the prep and clean up of art supplies, the
Kwik Stix 12 pk
from
The Pencil Grip, Inc
. will be your new best friend!

What it is and how we used it:
The
Kwix Stix 12 pk
is a set of twelve solid, quick drying tempora paints that are simple to use and best of all-mess free! No water, brushes, or hair pulling required! These paints are advertised to dry with a paint like finish in 90 seconds, but I would say it doesn't even take that long. They are so easy to use. As the products says, just "uncap, twist, and paint!"
The
Kwik Stix 12 pk
comes nicely packaged in a variety of bright, vibrant colors, including white. The individual paints cleverly resemble your traditional glue stick, and as such are easily handled by little fingers.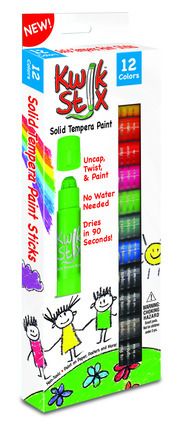 We used them on a variety of surfaces including watercolor paper, computer paper and also a thicker, more textured cardboard. In my opinion, I'd more quickly describe them as leaving a pastel or oil crayon type finish over a painted one-but still very clean and colorful. They draw with a creamy and contained texture which is a nice departure from the average paintbrush that's been mishandled by four year old hands, perhaps dripping with water over your artwork-and the table!
I can't emphasize enough the value of a "no mess" product in the life of a mom with small children. Can I be completely honest and admit that I kind of dislike doing arts and crafts with my kids? Seriously, for the love of carpets everywhere...it's nerve-wracking! With little ones in particular, the time spent setting up and cleaning up(often full on bathing children) after art projects is just not worth it. But of course, we still do it anyway because it's fun for the kiddos and I promise I really do appreciate art. Having a product like this available makes art more accessible and less of a chore. It takes the anxiety away when asked those previously dreaded words "Mommy can we paint?!" Now I can confidently say "Sure, if you use the
Kwik Stix
!" :-)
On a technical note, I would point out that this product was a better fit for my preschooler over my rising first grader. The wider surface area at the tips lend themselves to basic, broad strokes over the more detailed drawings where you would want to fill in color with a finer tip. For example, both my boys and particularly Bennett enjoyed painting rainbows, bright suns, bubbled letters and patterns like zig zags with the Kwik Stix 12 pk. Since Evan is a little older and more mature in his drawings he found it challenging when trying to color in something like eyes on a face where the detail itself was smaller than the tip of the stix. This is not necessarily a complaint about the product but more of an observation of its ideal age group and use.
In addition to receiving the
Kwik Stix 12
pk to review, the company also generously included a
Pencil Grip
for us to try out as well.
Product Details:
You can purchase the
Kwik Stix 12 pk
for $11.99 from
The Pencil Grip, I
nc., and also via
Amazon
(with PRIME!).
Not only have they been fun to use in our own home, but I can see this product being a big hit with preschool and kindergarten teachers and classrooms. Not to mention a great birthday gift for an artsy child! To see what the my fellow crew thought, read more reviews by clicking on the banner below.

And check out
The Pencil Grip, Inc.
on social media by clicking the links below:
Website
:
http://www.thepencilgrip.com
Facebook
:
https://www.facebook.com/thepencilgrip
Pinterest
: :
https://www.pinterest.com/KwikStixPaint/
Twitter
:
https://twitter.com/ThePencilGrip
@ThePencilGrip