The
Institute for Excellence in Writing
has a reputation that speaks for itself, so I knew we would love the opportunity to review one of its quality products,
Linguistic Development through Poetry Memorization.
I vividly remember as a sophomore in high school standing before my english teacher to recite "The Road Not Taken" by Robert Frost. I stumbled over many words as I tried to recall what I had just feverishly crammed into my brain over the previous lunch break and all too short review period. Somehow, I made it thru to the end with little bobbles and received an A for my quick and careless recitation. Ask me today to recite the popular poem, and I'm afraid I wouldn't make it much past that yellow wood in the first line! In fact, I'm sure the whole thing left me just as quickly as it came upon receiving my ill deserved grade. It is for this reason that I am so thankful to discover products like
Linguistic Development through Poetry Memorization
from
IEW
to instill in my children a love of the written word and the skill to commit it to memory from a young age.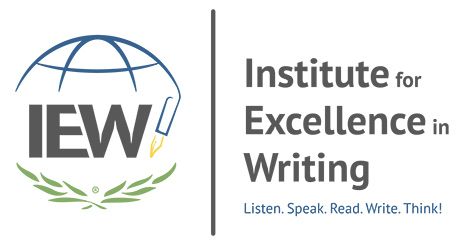 What is it?
Linguistic Development through Poetry Memorization
is a teaching tool for poetry memorization. For the purpose of this review,
IEW
generously provided us with the set
including the teacher manual, student guide(eBook), and printed student book which is available separate from the set. We also received five poetry CDs beautifully contained in a nice leather case as well as access to seven audio MP3 resources, in addition to the DVD
Nurturing Competent Communicators
by Andrew Pudewa.
Here is a shot of the printed, spiral bound student book. The poems included in this guide are available with the e-book download that comes with the set, so you can print off as many sheets as you please!
From the start, the teacher guide speaks to the importance of nurturing competent communicators and poetry memorization in its introduction. A major point the text makes is that children build their linguistic and communication skills based on their environment, and that you can't get out of a child's mind something that's not in there to begin with. So if you fill your thoughts and environment with quality materials such as these, richly composed and saturated with culture and history, then you're well on the way to raising a competent communicator. This is so critical in our world today, because popular culture will be the teacher here if we are not-no thank you!
Linguistic Development through Poetry Memorization
uses the mastery based Talent Education Method which, if you're familiar with any kind of music instruction, was developed by Dr. Schinichi Suzuki. Though there are 5 levels to the book, all children regardless of age start at level 1 and work up by their own pace. The accompanying audio CDs are an excellent resource aiding in the poetry memorization. We listen to them regular in the car as we run errands around town. Since I aim to homeschool classically, we do a good bit of memorization and I can't say enough how helpful it is to have that audio component. As with most memory work there is a good deal of reputation involved(practice makes permanent!), and students should repeat each learned poem daily in addition to whichever new poem they are working on. Now if you have a little entertainer like myself, the daily recitation of learned poems with energetic expression is not at all dull or monotonous. Yes, it may take some time-but consider it time well invested! Since we are starting young at age 6, studying these poems often gives us the added benefit of reading and vocabulary practice.
There are five levels in all, with the latter levels dealing mostly with speeches. The poems used were chosen for their humor and enjoyment, vocabulary, linguistic quality, cultural literacy and character/message. I'm looking forward to studying such rich and meaty works as "O Captain my Captain" by Walt Whitman, and the 1789 Abolition speech by Wilbur Wilberforce, and running into Lewis Carroll, Alfred Lord Tennyson and Robert Frost on the way(to name a few). Students are also encouraged to add their own personal selections at the end of each level. In all, there are 96 poems and speeches.
How we used it:
I have loved using this curriculum with Evan! Admitedly, this subject falls into my "pocket" and has been so enjoyable to explore with my son. He memorizes quickly and well, and I've even begun to exercise my stiff memory muscles alongside him. We started at the beginning of this review period with the first poem of level one and have so far successfully memorized, to the letter and with complete accuracy, seven poems. As mentioned earlier, part of the mastery based approach is reciting these seven over and over again next to newly learned poems(the manual lays out a nice schedule) so when I say "to the letter" I mean I even think on them in my sleep lol! I am already looking forward to holding some type of formal recital/graduation party at the end of level one as the book recommends.
It is hard work and I am so proud of my little man for meeting the task with enthusiasm and skill. It's been fun to enjoy poetry together, and has been hands down a highlight of our homeschool year. The introduction of the teacher manual is right to note that young children are naturally drawn to silly, unusual and interesting things-and a good many poets have rightly capitalized on their curious and active imagination. Andrew Pudewa notes that " if children grow up laughing and loving poems, they are much more likely to mature into adults who can pursue and enjoy the classics." He later comments "children need broad experience with funny, enjoyable and dramatic poems so that they can later plumb the minds and hearts of the masters."
Here is Evan reciting the first poem he memorized, "Ooey Gooey."
And here's the first part of his favorite poem so far, "After the Party" by William Wise...party hat added for effect. :-)
The teacher manual also includes helpful and fun lesson enhancements in its appendix. These enhancements take you a step deeper and offer further learning opportunities and suggestions alongside each poem. For example, the suggestions with the poem "Ooey Gooey" include studying different kinds of worms, discussing how the mighty can fall, and learning about irony. Other enhancements include book suggestions, biographies, exploring poetic elements and more.
Product Details:
The
Linguistic Development through Poetry Memorization
is sold for $65.00. Please note that a physical copy of the student book is sold separately from the set. And, w
ith the purchase of the Teacher's Manual and CDs you can download the seven other MP3 files titled
Mastery Learning, On Listening, On Reading, On Speaking, On Writing, Ten Thousand Times and Then Begins Understanding,
and an audio file of
Nurturing Competent Communicators
.
Read more reviews from my fellow crew members by clicking the banner below!

And, check out the
Institute for Excellence in Writing
on social media by clicking the following links:
Facebook
:
https://www.facebook.com/excellenceinwriting
Twitter
:
https://twitter.com/iew
@IEW
Pinterest
:
https://www.pinterest.com/iewriting
YouTube
:
https://www.youtube.com/user/iewtv