Hola amigos! Over the past month we have had the opportunity to explore Spanish with Foreign Languages for Kids by Kids. This immersive and multi-sensory program was developed by homeschooling mom and lawyer Kit Strauss. Part of our homeschooling goals include raising global citizens with a wide awareness of the world we live in. Naturally, we were excited to take our first dive into the Spanish language with this award winning program. We received the Starter Set 1 to review, which includes: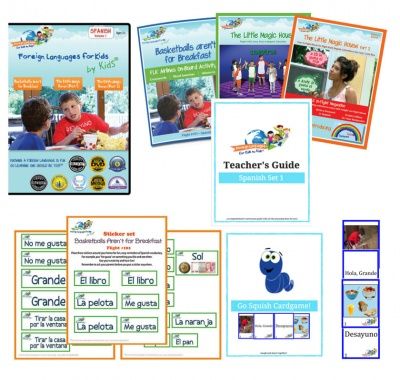 DVD with videos for levels 1-3

Three parent-teacher guides

Flashcards and card games for levels 1-3

Workbooks for levels 1-3

Stickers for all 3 levels
The three levels mentioned above are
Basketballs aren't for Breakfast
, and
The Little Magic House(parts 1 & 2)
. Each DVD is creatively presented as an in flight video to watch as you "travel" to a Spanish speaking country. What I really like about this
curriculum
is that the DVDs are actually entertaining and fun to watch. Both of my boys laughed several times throughout the videos-it's always nice to hear laughter and learning go hand in hand!
Something that I think that sets FLKBK apart from other foreign language curriculums is that it teaches by method of immersion. There is no "repeat after me" type of instruction, and you will not find translators or many subtitles in the videos. Instead, students naturally pick up the language as they see it spoken by other kids in a real life setting. This is much like the way they have learned their first language-simply by listening and watching. For example, there is a short "hide and seek" skit where the girl counts "Uno, dos, tres..." behind a tree. While this may present a bit of a learning curve up front, the video introduces it like riding a bike-it gets easier to understand over time. As an English speaking parent teacher, I would also note that it's incredible helpful to have that DVD component to hear how the words are correctly pronounced.
My boys also really enjoyed the stickers and workbooks. The workbooks are engaging, colorful and sturdy. Also, the flash cards are a great addition but I will admit the "Go Squish" card game was difficult for my littles to understand. While I would'nt neccesarily recommend that game for younger kids, you can still have plenty of learning fun with the flash cards and even adapt the game as you like.
The parent teacher guides included in this starter set are extremely helpful. Not only do they lay out detailed lesson plans, but also suggest supplemental hands on activities to reinforce the material taught, leaving plenty of room for flexibility.
For more information, you can connect with
Foreign Languages for Kids by Kids
on
Facebook
:
And, click on the link below for more reviews from the Schoolhouse Crew.