I'm linking to one of my favorite blog stops this week for "first days." Basically, here's a look at what the Scott family was up to on the first day of December.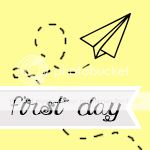 To start, a lazy Saturday morning filled with Team Umi Zoomi cartoons, playing cars, and a tiny two year old tandrum(not pictured).
Earlier in the morning Chris kindly informed me that the microwave was in desperate need of a deep cleaning. To be fair, it was pretty gross. So, cleaned it was!
And last but not least here are two random snapshots from the day-cream cheese iced cupcakes and the start of operation Christmas present wrapping.