We were so excited to get our hands on Exploring Creation with Astronomy, 2nd Edition from Apologia Educational Ministries to review. I have long been a fan of Apologia, and knew from the start of our homeschooling journey that we would eventually use it for our science curriculum. After exploring this new Astronomy course with my first grader over the past few months, we are happy to join the chorus of praises and sing that it not disappoint!

The new and improved Exploring Creation with Astronomy, 2nd Edition is part of the Young Explorer series and is geared towards students grades K-6. For this review we received:
Student textbook
Note booking Journal
JR. Note booking Journal
Audio CD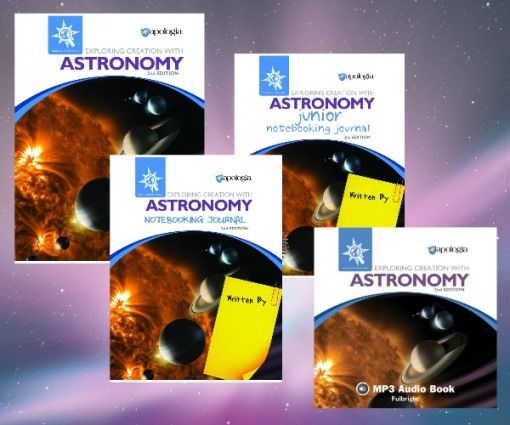 The sturdy hardback textbook offers an in depth astronomy course complete with beautiful, breathtaking photographs. As you learn and "explore creation" through astronomy,
Apologia
is faithful to point to its creator and teaches from a biblical center and worldview. What I also appreciate about the textbook is how fluidly it reads. While incredibly comprehensive, its conversational style reads with the ease and enjoyment of a living book. This top quality textbook includes 14 lessons and covers the sun, moon, each of the planets, stars, space travel and more. I really enjoyed the small "think about this" excerpts within the chapters-they make for great talking points with your kids!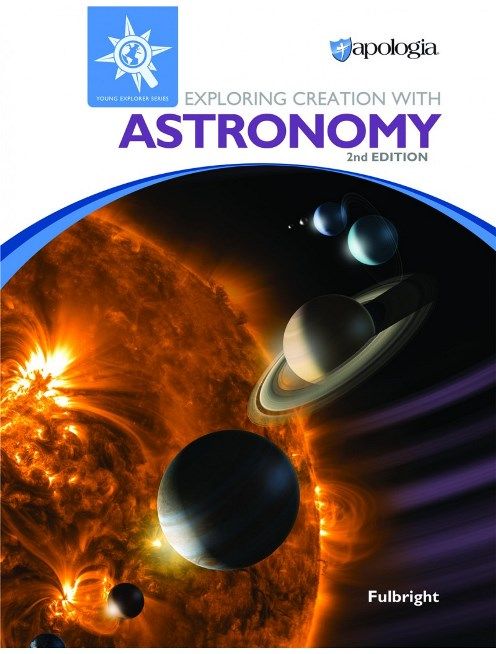 Because we love all things multi sensory, the audio CD element was an awesome addition. It is a complete and engaging reading of the textbook by the author herself, Jeanine Fulbright. We casually (and by casually I mean on the way to the grocery store) listen to the chapter readings of the CD after we've read the textbook and completed any related notebooking activities and/or experiments; in this way the audio reading acts as a last layer to further "seal" the information.

The student activities were also huge hits with both of my boys. They are easily outlined and you can complete most experiments with the help of common household objects. Most importantly, they are FUN! One of the first ones we did was to create an original mnemonic device to remember the names of the planets. Of course we came up with all kinds of silly sayings, and ultimately landed on "Master Velociraptor Evan Matthew Just Sat Under Noodles." #SixYearOlds. :-) It's safe to say my kids were pulled in from chapter one. More than that, they were excited to start learning about astronomy. Below is a picture of Evan standing under our next project, a balloon model of the solar system.
Since my kids are younger, I read aloud the from the textbook before moving to journal time. We primarily used the "junior" version of the notebooking journal, which is perfect for for those younger kiddos. It's a wonderful and well done complement to the student text and Evan really enjoyed the journaling in it. Both notebooks are BIG(300+ pages) and boast a variety of fun, full color activities to reinforce the lessons. The copywork, crosswords and coloring pages were right up our first grade alley. We also enjoyed making the "mini books." And for mom, a suggested schedule is included in the notebook for ease of planning.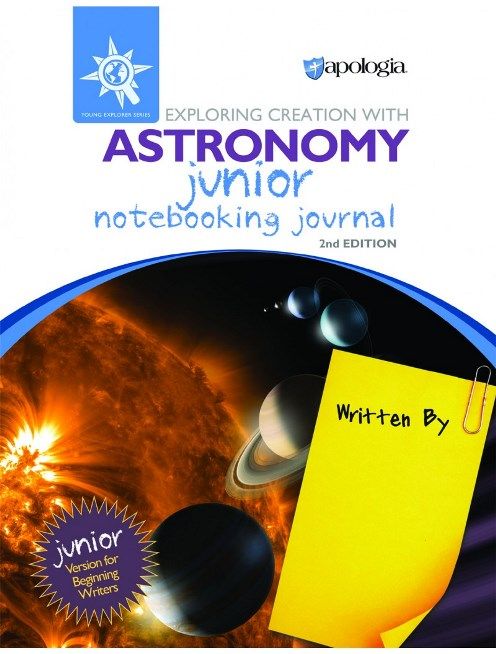 You can view sample pages of this notebook HERE.
Apologia has put together an excellent science cirriculum in Exploring Creation with Astronomy, 2nd Edition. If you're looking for a comprehensive, competitive and Christ centered science curriculum-this is it. It presents science and astronomy in a way that captures your attention-both in it's engaging text and gorgeous photographs- and inspires students to learn more. Without a doubt I will continue to use this book beyond the time of this review.
To read other reviews on this homeschool science curriculum, click on the banner below:

And, be sure to check out Apologia on social media at the links below:
Facebook:
https://facebook.com/apologiaworld
Twitter:
https://www.twitter.com/apologiaworld
@apologiaworld
Pinterest
https://www.pinterest.com/apologia/
Instagram:
https://www.instagram.com/apologiaworld/